Young Ukrainian refugee lights up Butchart Gardens for Christmas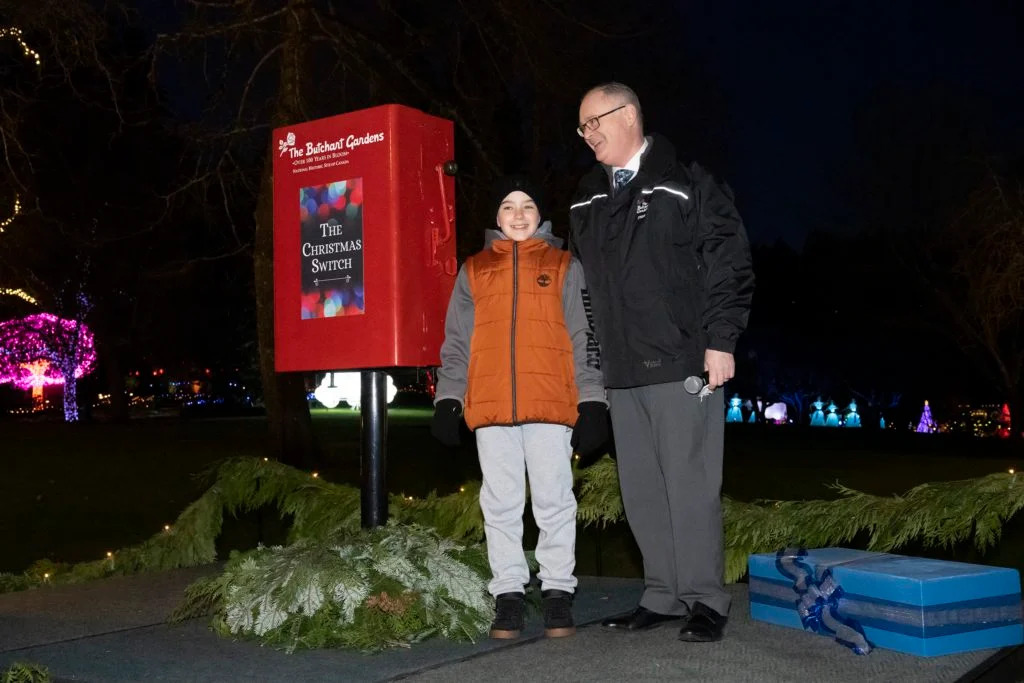 He's definitely on Santa's nice list.
A young Ukrainian boy helped bring joy to all when flipping the switch to illuminate Brentwood Bay's Butchart Gardens for its popular Magic of Christmas display.
The annual event, around since 1987, kicked off with a special ceremony on Dec. 1 when Nasar Dranytsia, a 10-year-old from Ukraine, joined the crowd and had the biggest task of all, Jill Smillie says.
"Every year, we have our light-up ceremony. This year, it was a young Ukrainian boy (who flipped the switch). Internally, we thought it would be appropriate to have someone from Ukraine do it," Smillie, Butchart's director of public relations, told CHEK News in an interview.
"We happen to have an employee who is from Ukraine and working with us and she's part of the community, so we reached out to her and she was able to point us in the right direction. We hosted him and his mother and people from his community that evening to add some warmth to it."
The colourful display is filled with wonder and, of course, tons of different types of lights, from twinkling glows to lasers, sprawled throughout the 55-acre property, according to Smillie.
"It's a lot of classic lights and also some innovative new technology with lasers and sound," she said. "We also have a festive brass band and carollers."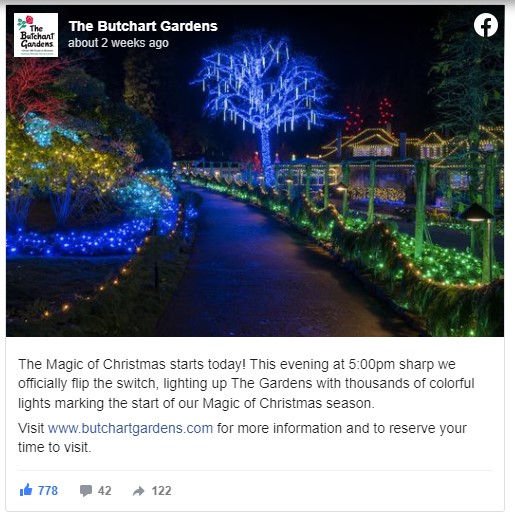 Dranytsia's participation not only culminated the countless hours worked by crews to make the display a reality, but brought organizers' biggest wish to fruition — a place where people go for Christmas cheer, Smillie explains.
"Obviously, the planning is year-round, but they start in mid-to-late October with the installation. It's a big team that puts it together and it's well-planned out and they leave a little bit of breathing room for weather," she said.
While the holiday festivities came to be three-and-a-half decades ago, the gardens have been around much longer — in 1904, Jennie Butchart opened them to the public. All these years later, the property is still privately owned by the same family and deemed a National Historic Site of Canada.
By 2020, COVID-19 proved to be a Scrooge.
"The first year (of the pandemic) it was set up and several days before we opened, there was a provincial health order for no large gatherings. So we weren't able to have the public visit in 2020. Last year we did have Canadian visitors, and this year we are back to international as well as Canadian visitors," Smillie said.
This year, it's back and better than ever.
"Visitors can expect the Magic of Christmas," Smillie added. "It's a wonderful light display and there's music, dining options and, obviously, thousands and thousands of lights and different types of lights and a lot of Christmas cheer."
The public is invited to bundle up and stroll through the gardens, which are open daily except for Christmas Day from 3-9 p.m. with viewings until 10 p.m. On-site dining options, such as the Dining Room and Blue Poppy restaurants, are also available.
Butchart Gardens' Magic of Christmas wraps up on Jan. 6, 2023, with tickets varying in price for children, youth and adults available online here.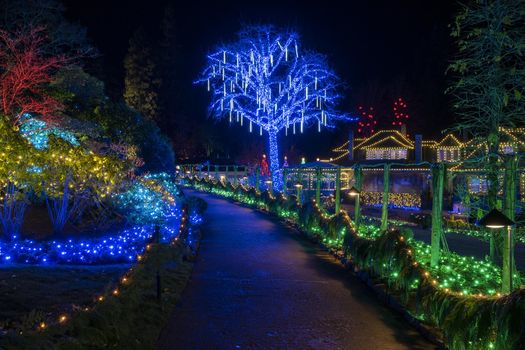 ---
Article courtesy CHEK News:
cheknews.ca/young-ukrainian-refugee-lights-up-butchart-gardens-for-christmas-1119917