1,000 pounds and growing: RRU Garden helps feed community
by Richard Dal Monte
Royal Roads University | Hatley Park National Historic Site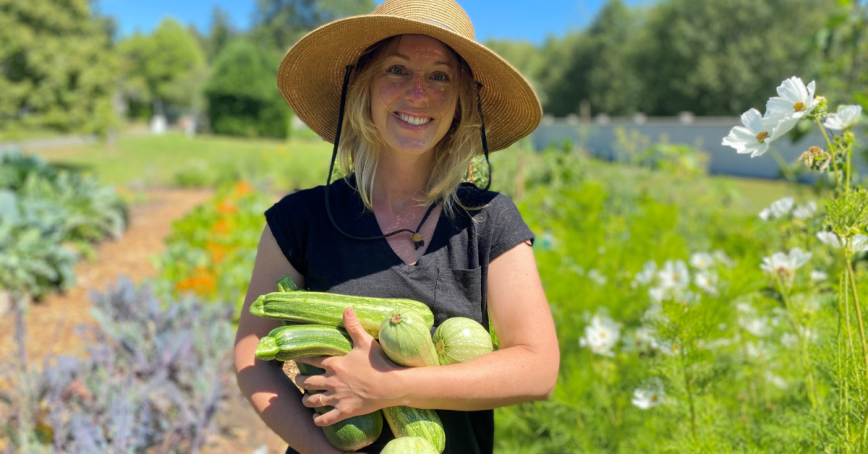 What does food security look like?
Is it a full refrigerator? Well-stocked grocery store shelves? Tables at farmers' markets overflowing with abundance?
For some vulnerable communities in the greater Victoria area this year, food security looks like firm, fresh-picked broccoli and potatoes still dusty from the soil; light-green Armenian cucumbers and purple pole beans; juicy blueberry tomatoes; slender, hanging tromboncino zucchini and flying saucer-shaped pattypan squash, and dark, leafy collard greens.
All that produce was grown in Royal Roads University's Giving Garden, which was started this year as part of its commitment to food security in the community and thanks to donations made to A Vision in Bloom fundraising campaign.
Partnering with groups such as Iyé Creative and Upbeet Garden, Royal Roads has distributed its bounty to recipients including low-income seniors, single parents and new immigrants via weekly box programs and even a community fridge.
A thousand pounds of giving
Solara Goldwynn, food systems manager for RRU's kitchen garden, says by the end of harvest season this fall, the Giving Garden program will have distributed one thousand pounds of produce in its inaugural year.
"I have created gardens like this in the past, and my company does it often," says Goldwynn, who also co-owns Hatchet & Seed with husband Tayler Krawczyk, "so I know how quickly you can grow a food garden and how much of an impact it can have in one season. I'm super thrilled that it happened this year with this garden.
"To reach out to community members and develop these relationships has been so rewarding to see, but there's still lots of work to be done with it."
Among that work, she says, will be doubling the size and output of the Giving Garden, building relationships with a variety of organizations that work on food security in the community — especially on the West Shore, near RRU — and keeping some produce on campus for students who need it. She would also like to see an expansion of the educational component, where community members could visit and work in the garden to learn how to grow their own food.
"It's not just about people going to the [community] fridge or the food bank," Goldwynn says. "It needs to be incorporated into people's lives more."
Collard greens for dozens of Island families
Ariel Reyes Antuan agrees that education is crucial to food security, especially among immigrants who may be adjusting to life on Vancouver Island. The Cuban-born co-founder of Iyé Creative, a food justice and grassroots collective that supports dozens of families, says it's important to both get culturally relevant foods to vulnerable communities and to teach them to cook and enjoy new foods, too.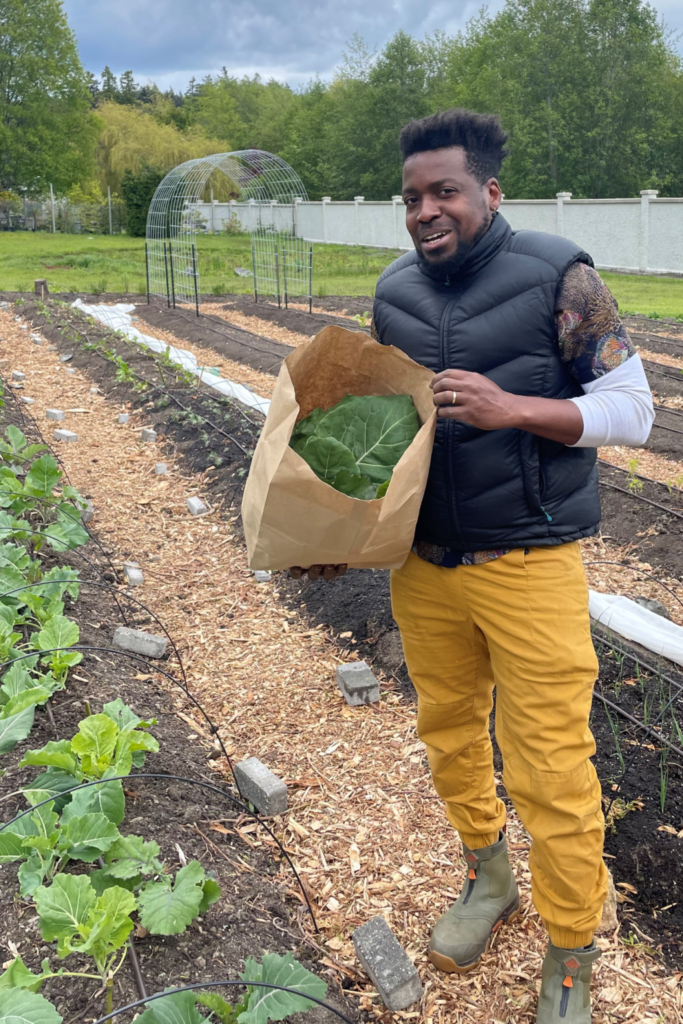 Collard greens have been a key to both Royal Roads' and Iyé's outreach this year as they're important, both culturally and nutritionally, among Afro-diasporic communities, he says, adding that the value in RRU growing collard greens cannot be measured in the number of pounds donated. "You need to feel it. It's a feeling that someone cares for you."
Some items from the Giving Garden, such as summer squash or zucchini, are not as familiar — yet — to immigrant communities.
"The Giving Garden is very versatile, but we are focused on what our people consume until we can get a kitchen in order to teach people how to taste different foods from all around the world," Reyes Antuan says. "It is a beautiful example of how we can support each other and how this community can get access to locally grown food that they like in their kitchen."
Jesse Wallis of Upbeet Garden echoes those sentiments and is enthusiastic about the connection with Iyé that resulted in a partnership with Royal Roads. She says Upbeet, which she co-founded with Brooke Williams, grows its own produce on an eighth of an acre and distributes weekly produce boxes. Working with Goldwynn, it added squash, beans and the ever-popular collard greens.
"We're very small scale, so we've maxed out how much we can grow in the space we have available," Wallis says. "Knowing that we can reach more folks or provide a bigger box of produce each week by having contributions from Solara and the Giving Garden means that we can provide a whole nutritious meal in itself."
Caring about the larger community
Being able to contribute to the large community in which Royal Roads is located is important for the university's mission, says Philip Steenkamp, RRU's president and vice-chancellor.
"One of our values is 'caring' and I think this is an incredible embodiment of that value," he says. "We know even in our own community there are lots of issues with food security, so this is a small way we can start making a contribution toward reducing that uncertainty."
He also notes that the Giving Garden is a continuation of the long history of food production on the site on which the university sits. First and for millennia, he says, Indigenous Peoples collected food, including camas, off the lands. Later, during the Dunsmuir era of the estate in the early 1900s, a kitchen garden was established.
"So what we're doing, really, is reimagining the Edwardian kitchen garden into a world garden, a garden that truly reflects the diversity of our community."
And the ongoing evolution of the Royal Roads grounds and the Giving Garden wouldn't happen without generous donors who've contributed to A Vision in Bloom, which also helps fund projects such as planned restoration of the glass greenhouse and a refresh of the iconic Japanese garden.
"We're so grateful to anyone who donated to this project," Goldwynn says. "They should know that their donations really had an impact on people and turned into nutritious food, built community, fed bees and pollinators. It was their dollars turned into ecosystems and community wellbeing. I would say, 'Keep it up. Please donate more because when we give, the garden gives back.'"
---
News article courtesy Royal Roads University