The Resilience of BC Gardens
by Dr. Brian White & Khanh Le, M.A., Royal Roads University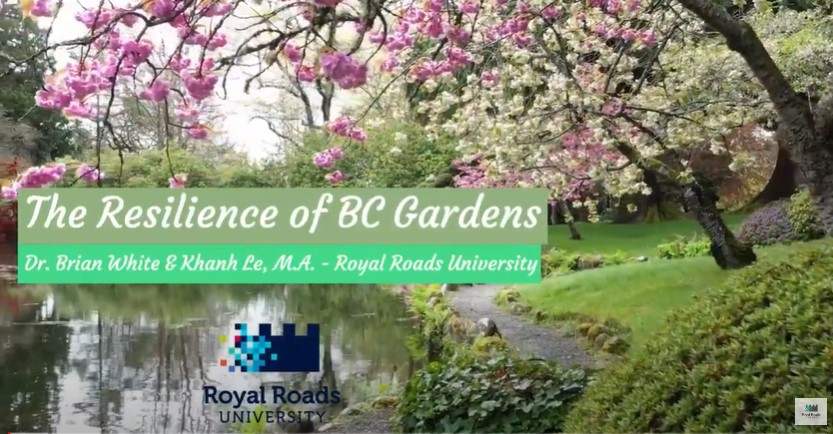 The past two years have defined a 'new normal' for public gardens internationally, as climate change and the pandemic impact garden visitation, revenue, and management. Horticulturalists responsible for public gardens in southern British Columbia have been dealing with Covid-19 and profound weather incidents, including extreme heat, drought, flooding, and strong winds. Gardens, both public and private, are a major BC leisure activity and visitor attraction, requiring consistent care and horticultural attention despite the recent garden closures and loss of revenue.
This video tells individual stories from four horticultural managers in show and botanical garden properties on southern Vancouver Island and the Lower Mainland. Key themes in the video are: care of garden workers and visitors during the pandemic and extreme weather events, garden responses to heat, wet, and cold weather, on-line strategies to keep the public informed and provide ongoing garden contact, and discussion of the 'new normal' for BC gardens as we adapt to more extreme weather conditions and, possibly, ongoing pandemic restrictions.

Watch the video:
Article and video (13:43 min) courtesy Dr. Brian White, Royal Roads University
---
'The Resilience of BC Gardens' video is accompanied by the following adademic paper with details on the research methodology, literature review, anonymous questionnaire responses, and references.
Read the academic paper by Dr. Brian White & Khanh Le, M.A., Royal Roads University:
'Sustaining the Cultural Capital of BC's Public Gardens: