BC Communities in Bloom Awards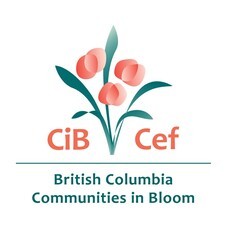 by Catherine Kennedy, Executive Director, British Columbia Communities in Bloom
---
Langley – Congratulations to all our participants who have, no doubt, been challenged by the events of the last few years. Recovery and resilience are clearly on display for these Communities in Bloom participants.
On Thursday evening September 29th , Certificates, 5-Bloom Street Banners and Criteria Trophies were awarded to participants in the BC Communities in Bloom program at the 18th Annual Provincial Awards. This year there were three 5-Bloom winners: congratulations to first time recipient Sicamous, as well as Clinton and Hope who have been multi-year recipients of 5-Blooms. Armstrong and 100 Mile House continue to grow with 4-Blooms!
Achieving 4 and 5-Blooms is an amazing accomplishment of collaboration from municipal, business, residents and service groups. Congratulations to all our 'in Bloom' participants who are making their communities be the best they can be through the nationwide Communities in Bloom program of "Growing Great Places Together"
2022 PROVINCIAL EDITION – RESULTS – Mention or Project Name
Clinton, Village of – 5-Blooms – Clinton and District Outdoor Sportsman Association
Hope, District of – 5-Blooms – Earth Day Recycling Program
Sicamous, District of – 5-Blooms – Eagle Valley Resource Centre
100 Mile House – 4-Blooms – Birch Avenue Plantings
Armstrong, City of – 4-Blooms – Small Town Charm, Heritage Character and Spirit
Abbotsford, City of – Friend – Non-Evaluated + National Finalist
Coquitlam, City of – Friend – Tree Spree + National Finalist
Nanaimo, City of – Friend – Non-Evaluated
Parksville, City of – Friend – Welcome to Parksville Garden
Qualicum Beach, Town of – Friend – Beach Creek Estuary, Marine Spit & Memorial Ave Restoration
Marlys Diamond: QB – Showcase – Qualicum Beach CiB Legacies, 75 years Rotary and Fire Dept
Qualicum Beach Garden Club – Showcase – 25th Year Celebrations
Berwick Qualicum Beach – Showcase – Retirement Home Residents Gardens
Joanne Sales: QB – Showcase – Broombusters Invasive Plant Society
Lake Errock, Community Assoc. – Showcase – Non-Evaluated
CRITERIA AWARDS – SPONSORED BY – WINNER
PLANT & FLORAL AWARD – Teck Resources Limited – 100 Mile House
LANDSCAPE AWARD – Urban Systems – Armstrong
YEAR OF THE GARDEN AWARD to be announced October 22, 2022 in Victoria [see CiB Press Release below]
We acknowledge our Sponsors whose financial support makes it possible for us to deliver the CiB program.
COMMUNITY CHAMPION AWARD – BC Communities in Bloom Sponsored
Yvette May from Clinton was nominated by the BC Communities in Bloom Board. This award recognizes an individual who is involved locally and provincially. Yvette has been a driving force with the Clinton CiB Beautification Society. She has also promoted the many benefits the provincial 'in Bloom' program as a judge, board member and former chair.
BC'S NATIONAL & INTERNATIONAL 5-BLOOM FINALISTS
Results for Abbotsford, Castlegar, Coquitlam and Trail will be announced October 22 at the National Communities in Bloom Awards being held in Victoria, BC. [see CiB Press Release below]
BACKGROUNDER
BC Communities in Bloom is a not-for-profit society administering the dynamic CiB program where residents, service groups, charitable organizations, businesses and local governments come together to ignite and unleash the potential within each community. Because of this unique annual challenge, a new vibrancy and prosperity is reflected in the lasting legacies to our communities.
PROGRAM BENEFITS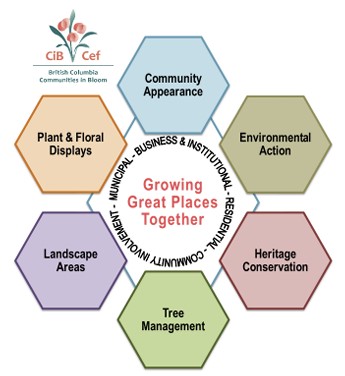 • Increased civic pride and community involvement for all ages and abilities
• Collaborative, networks existing volunteer groups to celebrate their efforts
• Improved quality of life
• Encourages environmental stewardship through the enhancement of green spaces
• Evaluation supplies valuable information and feedback from the judges
• Advocates best practices and information exchange
• Creates marketing and promotional opportunities for participant
• Positive benefits for the tourism, hospitality, and retail industries
• Transformative, supports economic development initiatives
EVALUATION PROCESS & CRITERIA
During late July, on an agreed date, two judges view the community in person on six evaluation criteria within four sectors: municipal, business & institutions, residential and community involvement. The evaluation criteria consist of Community Appearance, Environmental Action, Heritage Conservation, Urban Forestry, Landscape, Plant and Floral Displays. Successful participants are recognized for their efforts to create lasting partnerships within their communities.
RESULTS
All evaluated communities receive a rating of one to five 'Blooms' (unless entered as first year Novice). Selected 5Bloom communities receive an invitation to participate in the following year's national program.
In addition to their rating, each BC CiB participant receives a comprehensive report, prepared by qualified judges. This report reviews the features and projects in each of the criteria areas that the community has undertaken and presented and offers constructive comments and suggestions for the following year. Of course, all participants are winners as they celebrate pride in their hometown with a program that recognizes their potential as resilient liveable communities!
Within the context of climate change and environmental concerns, communities involved in the Communities in Bloom program can be proud of their efforts, which provide real and meaningful environmental solutions and benefit all of society.
See the BC CiB presentation 'Celebrating our 2022 Provincial Edition Participants'
---
Communities in Bloom press release: 2022 CiB Awards Results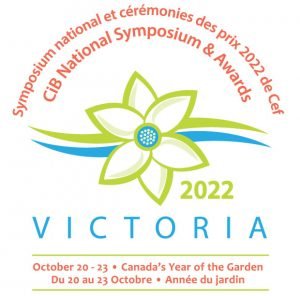 On October 22nd, the 28th Edition of the Communities in Bloom National & International Awards Ceremonies were held in Victoria, British Columbia, honouring municipalities across Canada, the United States, Belgium, Ireland, Italy, and Slovenia.
Communities in Bloom is a volunteer and partnership-driven organization that uses a multi-tiered competitive evaluation process to foster community strength, involvement, and continuous improvement. This is accomplished by nurturing environmental sustainability, enhancements of green spaces, and heritage conservation, in cultural and natural environments encompassing municipal, residential, commercial, and institutional spaces.
National Chairperson, Susan Ellis said, "On behalf of our national board of directors, judges, and sponsors I sincerely thank and congratulate all the communities that have participated in the CiB provincial, national, and international programs this year. The past two years have tested our strength and resilience, and together, we have all persevered. We have emerged this year, 2022, and have made new and lasting contributions in celebrating the places in which we live, work, play, and visit.
We also recognize all the award winners at this time each year who, with the help of their community volunteers, have raised the bar with their efforts to create and enhance the green spaces that so many residents have rediscovered across Canada. Our communities continue to recognize the need to nurture and protect our environment and create new ways to help mitigate the impacts of climate change. Thank you all for contributing to Communities in Bloom and helping us to thrive as we are "Growing Great Places Together"!
---
Press release excerpts of the BC winners:
Outstanding Achievement Awards Winners
Canadian Nursery Landscape Association Green Cities Award: Coquitlam, BC
Equinox & Scotts Canada Year of the Garden Contest 2nd place winner: Coquitlam BC
Grand Champions
City of Castlegar, BC 5 Blooms – Bronze Butterflyway Garden
City of Coquitlam, BC Circle of Excellence – Evaluated (non-competitive) 5 Blooms – Gold Hoy Creek Hatchery
Circle of Excellence – Non valuated
City of Abbotsford, BC
City of Trail, BC
British Columbia Communities in Bloom Year of the Garden special criteria award
Armstrong CiB
Sicamous CiB
"Congratulations to all of the 2022 National & International finalists!"
---
Growing Great Places Together
bloom@cib-cef.com * www.communitiesinbloom.ca