Fall Experiences in BC's Beautiful Gardens
by Brian Minter, Minter Country Gardens
It's time to fall in love with fall in beautiful BC! Besides enjoying the cooler, crisper weather, smaller crowds and the rich colours of autumn, there are so many things to see and activities to experience.
There is much to discover! In addition to iconic destinations like Victoria, mountain marvels like Whistler, Okanagan Wine Country, and of course, culturally diverse Vancouver, all with award-winning cuisine, there are new destinations emerging. Check out our itineraries section for great trip-planning ideas.
The Fraser Valley has evolved into a series of reinvented downtown cores with smaller, boutique stores which are fun to browse and shop in. Breweries, wine bars and retailers, outstanding restaurants and coffee bistros are all part of a younger culture. Langley, Fort Langley, Abbotsford and Chilliwack, with its new District 1881, are all great places to visit and explore. Fraser Valley wineries are growing too, many now offering great tasting events in beautifully appointed facilities and patios. The fall floral colour in all these communities is particularly beautiful at this time of year (see Communities in Bloom for more information).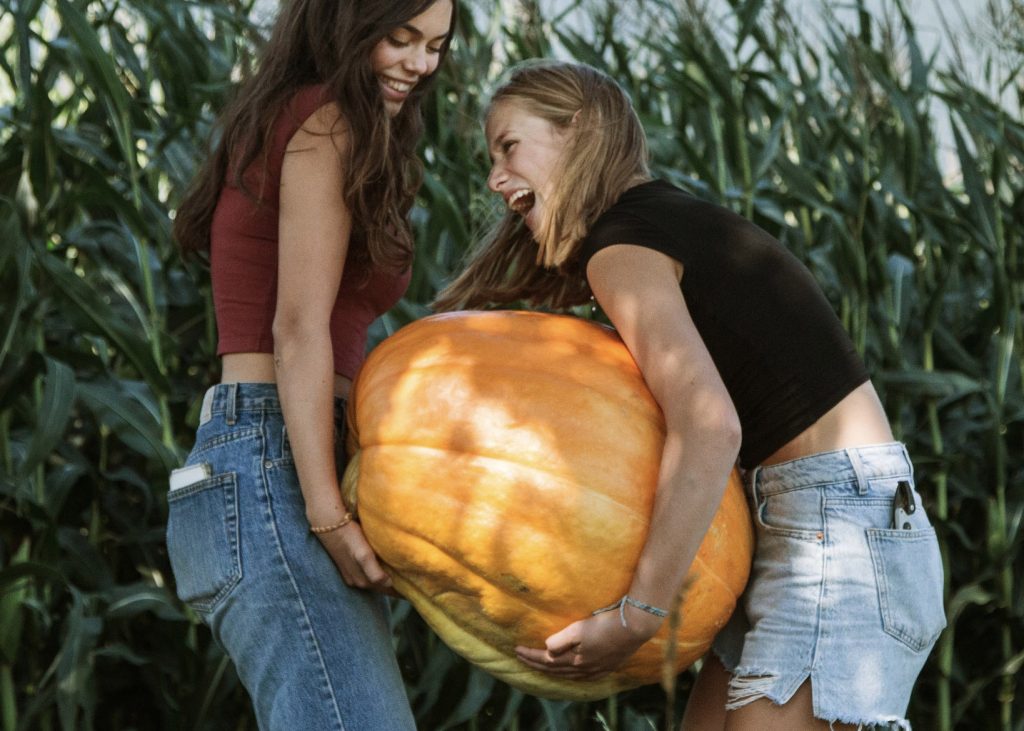 Close by, on the way to Harrison Hot Springs, the Harrison Sunflower Festival is on each Fall (closed for 2023 – stay tuned for 2024 dates), and the Harrison Pumpkin Festival (on one day only on September 29th), and will be followed by the Tulip Festival in April.
There are myriad opportunities for great discoveries as you move further into the province. Take the old Hope-Princeton Highway and you'll find numerous orchard and fruit stands, beautifully decorated for fall, and offering plenty of freshly picked fruit and wonderful baking.
In the Okanagan, enjoy stunning lake scenery and award-winning wineries in cities like Kelowna, Penticton, Osoyoos and Vernon.
If your travels take you north, you'll come upon several quaint smaller towns, all decked out for fall too. A timely stop in Barkerville will transport you a step back into the history of gold rush days. Their community is a living museum of what life was like in that tumultuous time and it's very well presented!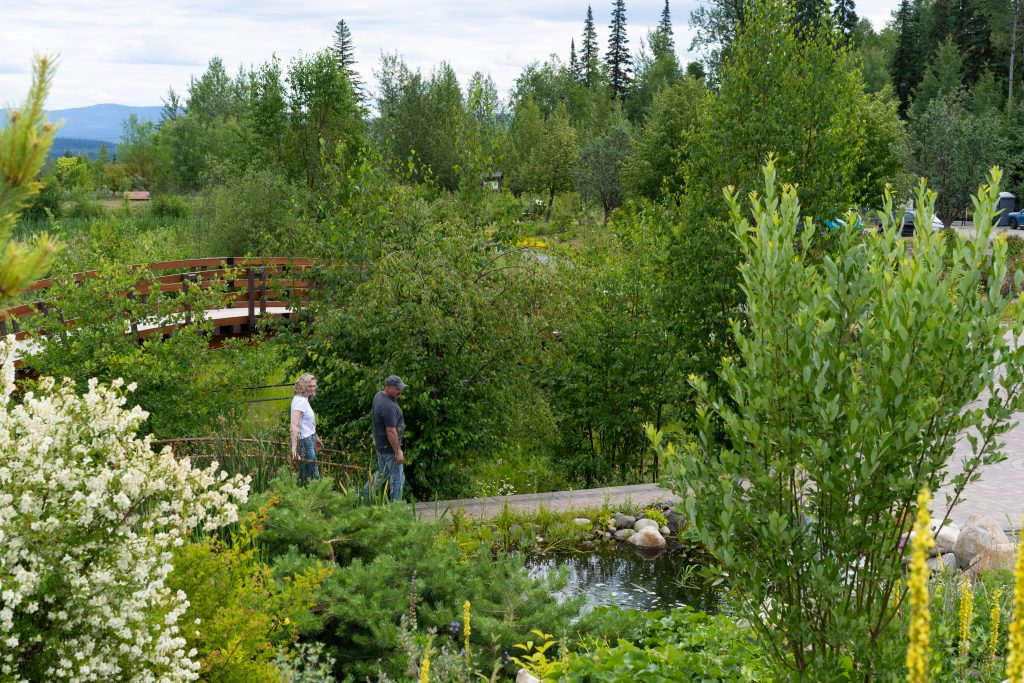 Prince George will impress you with what a modern northern city is really like. Be sure to see the David Douglas Botanical Garden on the grounds of The University of Northern British Columbia. Here you'll find an extensive collection of trees, shrubs, and perennials that thrive in a colder climate. It truly is a garden to discover.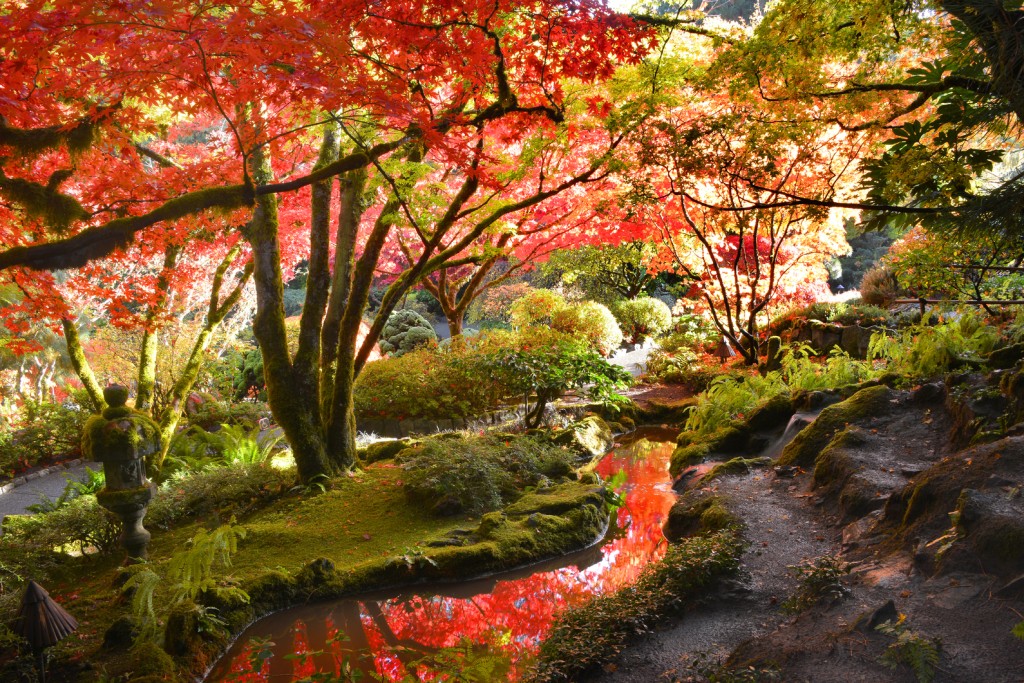 Vancouver Island is a must-see in fall. The famous Victoria hanging baskets grace most of the city with colourful annual plantings which are still looking fantastic. There are so many museums, galleries and other fun places to see, as well as myriad curio shops.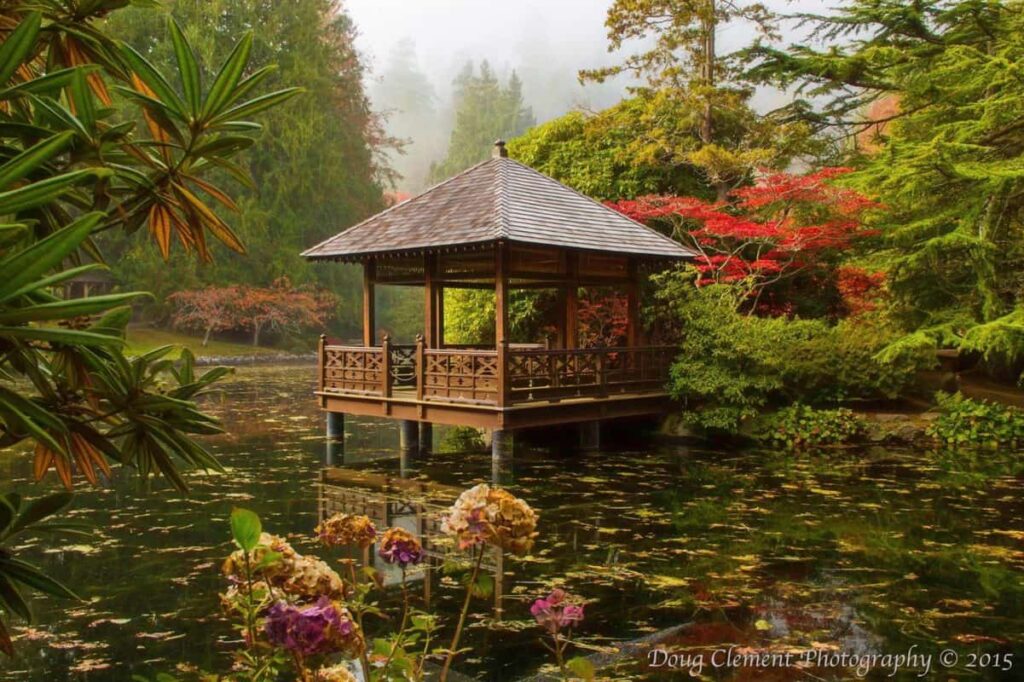 World-renowned Butchart Gardens transitions from summer to fall colours with stunning displays. One of my favourite gardens is Hatley Castle at Royal Roads University. It is so well designed and is full of new plants and grasses that look spectacular this time of year. The Horticultural Centre of the Pacific also showcases many unique and unusual plants in a beautiful setting. Their fall heather and late-flowering perennials add a terrific touch of autumn inspiration.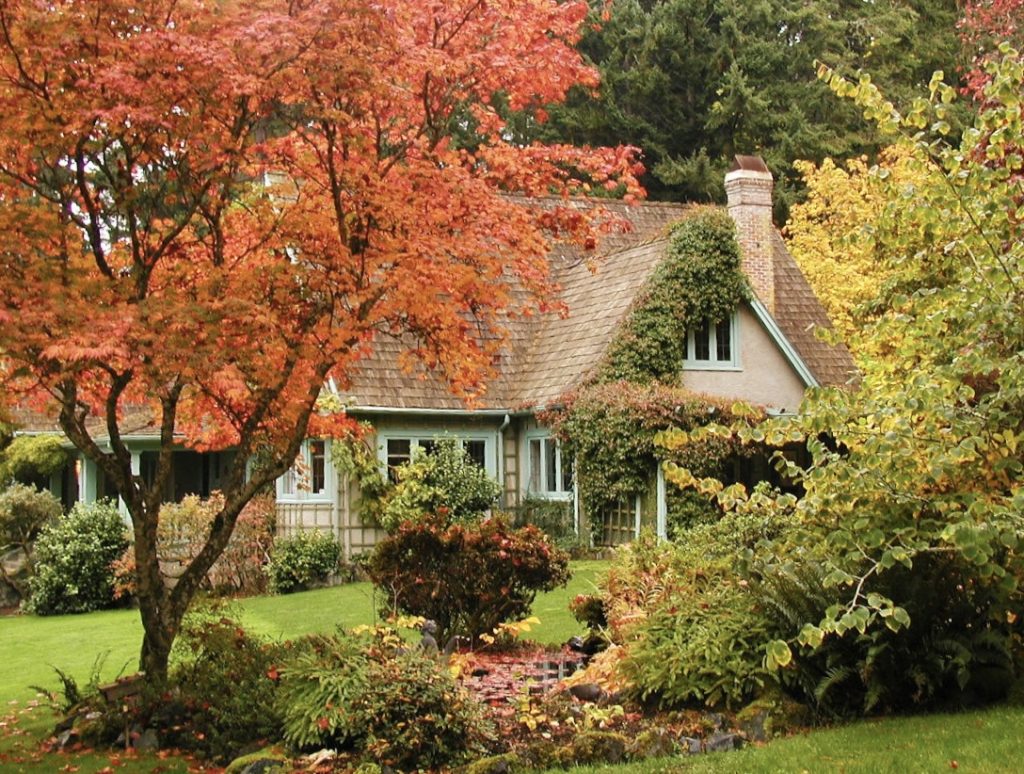 Up Island, in Qualicum Beach, you'll find Milner Gardens and Woodland, which is quite lovely this time of year with fall tones blending through the walkways and forest areas alike. Continuing north, be sure to stop by the many small communities along the ocean. The views are sensational, and the beautifully landscaped gardens, quaint shops and seafood restaurants will leave you with many happy memories.
Whether you begin or end your BC Adventure in Vancouver, be sure to visit Stanley Park. You'll be rewarded with stunning water views and their gardens are beautiful in autumn too, with fabulous pops of colour from fall mums, asters, rudbeckia, grasses and more.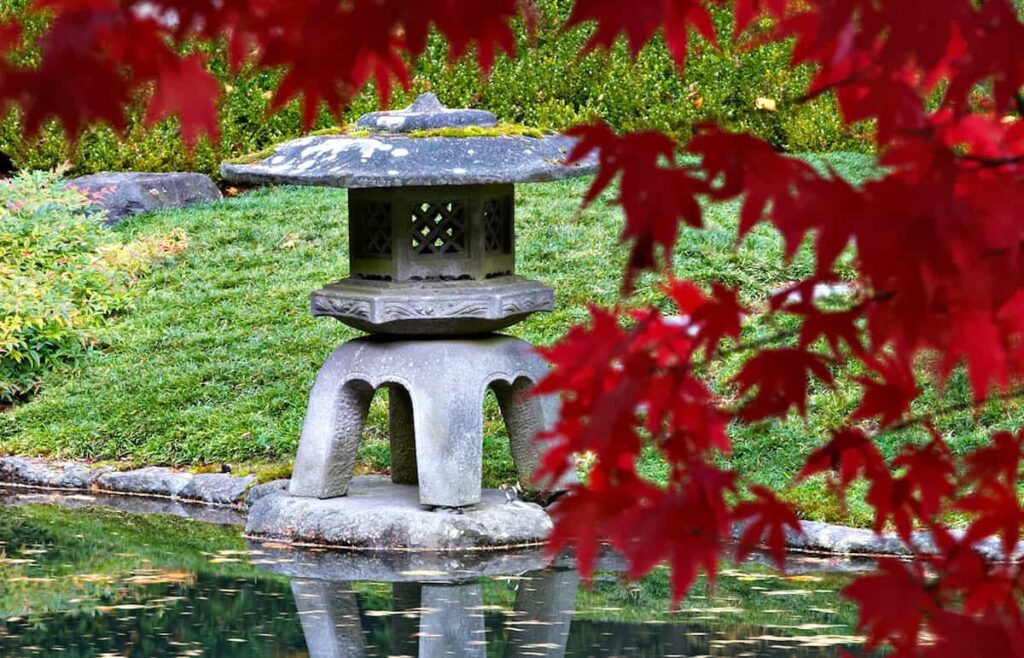 The University of British Columbia features features two must-see gardens you won't want to pass up. UBC Botanical Garden and the Japanese Nitobe Memorial Garden, each unique in their own way, promise an enjoyable, restorative experience, and it is wonderful to see so many trees, like vine maples, in their fall glory. You will find amazing new plant varieties while you're there too, so be sure to discover them all!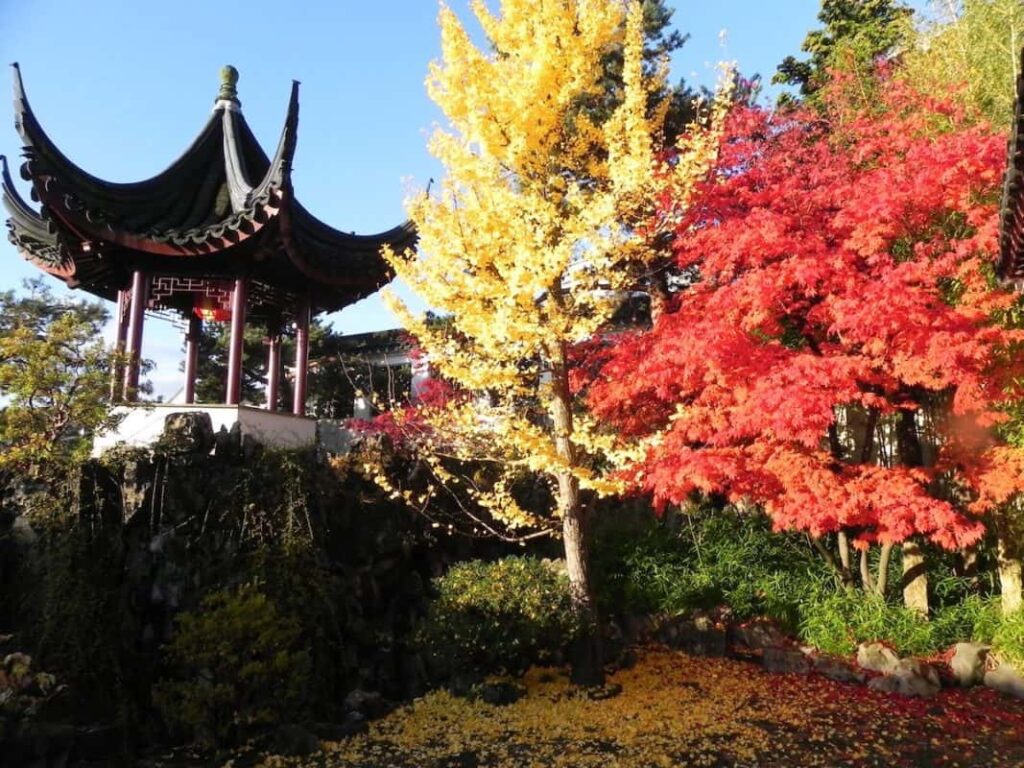 VanDusen Botanical Garden is not to be missed when you're in Vancouver. Close to the heart of the city, it's a delight to visit. Discover fall blooming bulbs, perennials and the beginnings of fall colouring on so many of the unique and rare trees in the garden. Be sure to stop in at the Shaughnessy Restaurant for a delicious meal as well. Bloedel Conservatory, featuring its indoor tropical paradise, is close by and definitely merits a tour. For an enlightening cultural and spiritual experience, be sure to tour the Dr. Sun Yat-Sen Classical Chinese Garden. You will leave refreshed and uplifted.
There are so many opportunities to enjoy 'Beautiful BC' this time of year! Whether you only have a day, or a few weeks to do some exploring, BC is a place to relax, have fun, and participate in unique activities in stunning surroundings, so make sure it's on your fall "To Do" list. View more BC travel inspiration on HelloBC.com.