Where to Find Jaw Dropping Autumn Foliage in Victoria and Vancouver
Autumn Foliage hotspots near Victoria, BC:
As the warm summer evenings of Vancouver Island and the BC mainland inevitably give way to the cool and often downright frosty nights of autumn in British Columbia,the leaves of broad leaf maple, oak, poplar, dogwood, liquidambar, alder, and various ornamentals turn from their various shades of green into the browns, golds, russets, and deep crimson reds that defines Canadian autumn foliage. Unlike the vast maple forests of eastern Canada, fall colours in British Columbia appear unevenly, though intensely so its best to know where the reliable hot spots are as well as the hidden gems, known to locals.
In the heart of the Saanich peninsula by early October a stunning parade of red, russet and golden maples make their mark throughout The Butchart Gardens. In the Japanese Garden, you will find yourself surrounded by a stunning display of colour, predominantly made up of different varieties of Japanese maples, along with ferns and ornamental trees such as variegated dogwoods, topiary evergreens and pines. In the Sunken Garden, experience morning the light that defines fall as it shines through the trees, illuminating the vibrant leaves as they fall to the ground.
Photography tip: arrive in the morning to capture the autumn sun, adding a touch of magic to the autumn foliage. Follow the Butchart Gardens blog to know what trees and shrubs will be in full colour and which flowers might still be in bloom for your visit
Just down the road are The Gardens at HCP, a botanical tour de force. Pay attention to the Japanese garden with Canada's largest collection of Bonsai. The maples are particularly colourful, but so are the ginkgos and ornamentals. On October 4, 2017 The Gardens at HCP received a spectacular a piece of BC history. A tree propagated from the original Golden Spruce from Haida Gwaii was planted in the Gardens in a special dedication ceremony. It's just as beautiful 2 years later!
Pick up a copy of The Golden Spruce: A True Story of Myth, Madness, and Greed by John Valliant in their gift shop if you are are keenly interested.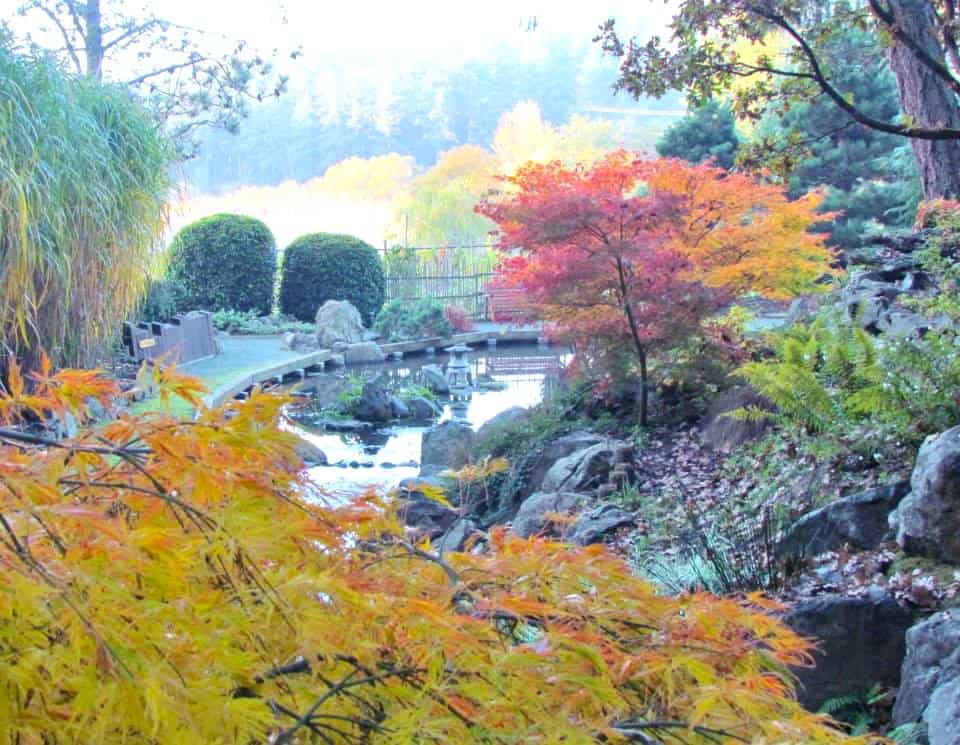 Since you are in the area and if the weather is a bit inclement, stop by the Victoria Butterfly Gardens on your way back to Victoria or to the BC Ferry terminal. This autumn they are featuring carnivorous pitcher plants that will be out in full form. And if you like wine, in the area are a number of wineries, including Church and State, de Vine, and Symphony wineries, among others.
In Victoria proper, Beacon Hill Park and Ross Bay Cemetery are two fall colour extravaganzas, both are close to the inner harbour, the Royal BC Museum and local restaurants. Not widely known, is the Japanese garden in Gorge Park in Esquimalt. It was originally constructed by Isaburo Kishida, who also built the Japanese gardens at The Butchart Gardens and Hatley Castle, in 1907, but was destroyed during the lead up to the WWII. However, the Township of Esquimalt reconstructed it in 2009, and it is not-to-be-missed. Bring your lunch and enjoy a picnic under the colourful Japanese maples.
Hatley Park National Historic Site with its magnificent castle and gardens is another autumn colour gem, seemingly hidden-in-plain-sight. While the Rose and Italian gardens take centre stage during the summer, the Japanese garden comes into its own, radiating a myriad hues of crimson and gold. This garden, bordered by a lake on one side and bisected by streams is an oasis of calm—and many of the rhododendrons and maples are over 100 years old. If you are ambitious, bike out to Colwood on the Galloping Goose Trail and be rewarded with more fall foliage that at times seems to turn the air gold! Update: Admission to the gardens are now free year-round!
Another (almost hidden) autumn treasure, a bit up island past Nanaimo at Qualicum Beach, is Milner Gardens and Woodland. The foliage is as spectacular as anywhere, but more intriguing is to catch the Katsura's when they start to turn in September and fill the air with the scent of brown sugar. If you reserve ahead of time, there is a special once a year, Mad Hatter Tea on Saturday, October 5, 2019.

Autumn Foliage hotspots in Vancouver, BC:
It goes without saying, viewing the autumn foliage at Stanley Park, in downtown Vancouver while walking or biking along the seawall is a tradition that many locals look forward to every year, and is highly recommended. But what's further afield?
Autumn at VanDusen Botanical Garden, amongst the 7,500 plant species, you can expect to see heathers, autumn crocus, asters, ornamental grasses, rudbeckia, and hydrangeas blooming. The floating bridge on Cypress Pond is a favourite spot for visitors to admire the changing leaves of the surrounding trees. Catch their AFC Festival – a public event by Artists for Conservation – Friday, September 27, 2019 to SundatyThe garden holds its annual Halloween event, VanDusen Glow in the Garden, from October 26 to 31, 2019 from 5pm to 9pm daily. Take a picnic with you or lunch in the Visitor Center. For those who like to shop, you can browse the gift shop, and kids, don't miss the exciting evergreen maze.
The change of season turns the lush green of summer to shades of gold in the Dr. Sun Yat-Sen Classical Chinese Garden. Slow down and enjoy a moment of solitude in the cool autumn breeze with a cup of hot jasmine tea in your hands. When the rain comes, listen to the smoothing sound of rain dripping from the furrow shaped roof tiles, an architectural feature unique to the Garden.
Catch their Sung Dynasty Tea Demonstration, Saturday, September 21, 2019 from 3:00 to 5:00 PM. Don't miss the ginkgo biloba and maple trees in the western corner of the Main Courtyard for their stunning foliage.
And, since you are in Chinatown, stops at: Ming Wo Cookware (23 E Pender) operating since 1917, Bamboo Village (135 E Pender) for it's interesting cornucopia of treasures, and New Town Bakery and Restaurant (148 E Pender) for its addictive coconut buns and apple tarts are highly recommended!
The last two stops on our journey through BC's autumn foliage hot spots are both at UBC: The UBC Botanical Garden is a riot of colour and textured barks, berries, and foliage. Also, its renowned annual Apple Festival is the weekend of October 19-20, 2019—they have over 60 varieties of heritage, new, and 'tried and true' varieties!
Nitobe Memorial Garden is considered to be the one of the most authentic Japanese gardens in North America and among the top five Japanese gardens outside of Japan, although it is only one hectare in size. "I am in Japan," said the Emperor of Japan, Akihito, when he visited a few years ago. The Japanese maples will take your breath away in mid October as they reflect of the main garden pond. This garden
makes for a very unique experience and you won't want to miss it.
If you are out in the valley this fall or for the Christmas season, consider stopping by Minter Gardening or Tanglebank Gardens & Brambles Bistro
You May also be interested in Hidden Garden Gems on Vancouver Island.