Brian Minter: Anticipation is high for the return of UBC Apple Festival
Up to 20,000 people historically attend this two-day event that features many apple-related activities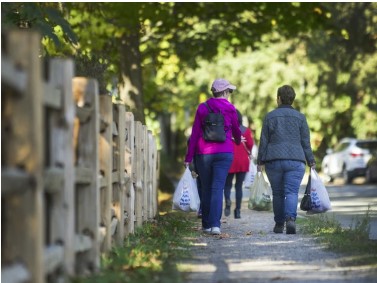 It's back. And that is great news. The UBC Apple Festival, a Vancouver tradition for the past 31 years, was cancelled in 2020 and 2021 due to the challenges of COVID-19 but returns this fall.
According to Pam Sinclair, a longtime member and spokesperson for the Friends of the Garden (FOGs), up to 20,000 people historically attend this two-day event that features many apple-related activities. From discovering and purchasing both new and heritage B.C.-grown apple varieties and sampling over 100 different apple types in the Tasting Tent to enjoying apple desserts and drinks, as well as taking in entertainment and going for garden walks, there is something for everyone.
Picking up a new apple tree in the botanical garden shop to take home and plant can also be part of the fun and is one of the best souvenirs I can think of.
I had the opportunity to speak with Katie Teed, Senior Manager, Marketing and Communications at the UBC Botanical Garden about the expectations of this year's festival. Teed is thrilled to have this important B.C. event back, and she is also very grateful for the FOGs members who originated and have orchestrated this festival each year. The initial vision was to showcase the diversity of the apples grown in B.C. It is an important fundraiser for the UBC Botanical Garden.
This year's Apple Festival takes place on Oct. 15 and 16 and, as Teed pointed out, it is so much more than a novelty apple event. She explained how important it is for urban families and individuals to experience the UBC Botanical Garden, especially the Forest Walk. The Festival admission includes entry to the UBC Botanical Garden, which is quite beautiful at this time of the year. Tickets for the Tasting Tent cost an extra $7 and are issued for timed entry.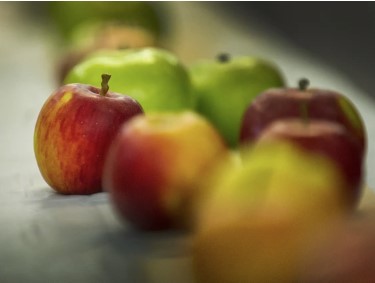 The garden shop is always a fun place to visit. It sells not only unique plants, including a number of hard-to-find varieties of apple trees, but also, for this event, many apple-related novelty kitchen and garden supplies.
The entertainment for the two days is family focused, and the organizers were just finalizing the details when Teed and I spoke. One of the really fun events for kids is the giant leaf pile — a collection of fallen leaves gathered from all the many trees in the gardens. Kids get to run through, jump, scatter and throw leaves in the air — as Teed points out, one of nature's best entertainment values, and you don't have to do the raking.
Food trucks will be featuring apple-related foods and treats. One of the favourites is a slice of apple pie and on closing day, whole pies can be purchased. Apple drinks will be available, including some spiced up, non-alcoholic apple ciders.
For anyone who has an apple tree at home, but they are not sure of the variety, Teed suggests bringing a sample to have it identified by Master Gardeners and a few local apple growers who will be volunteering to share their knowledge.
The Tasting Tent is very popular. You will have an opportunity to sample apple slices from over 40 varieties to get a sense of the flavours and textures of some very different apples. The Tasting Tent is open from 11 a.m. to 3:30 p.m. both days.
A great deal of credit for this Festival must go to the FOGs. Sinclair reminisced about the long history of this popular event. She said preparations for the Festival begin almost a year in advance by enlisting B.C. growers to supply the many different apple varieties needed. A significant challenge today is the dwindling number of smaller, family-run apple farms and the retirement of many older growers. It is becoming much more difficult to find heritage apples because today's larger scale growers are specializing in higher volumes of fewer varieties.
Weather, too, is always a concern. This year, local Fraser Valley growers faced a long, wet, cold spring, which can adversely affect pollination and subsequently, the quantities of mature fruits. Add to that, the logistics of getting so many varieties from so many different sources to arrive at a very specific time and then keeping them fresh and attractive — well, it's not hard to imagine the challenges involved.
Labelling the many different varieties and readying them for sale is another mammoth task that falls to the amazing FOGs volunteers, who are the heart and soul of this event.
I asked Sinclair what she likes most about the Festival, and she replied, "The magic of the day. So many families coming out to the beautiful gardens, little children dancing to the musical entertainment and folks simply enjoying the day."
Please note: There is no parking at the gardens during this event, so plan accordingly. There are parkades close by with shuttle buses.
All details of this event, including how to purchase tickets and how to volunteer, can be found online at applefestival.ca
---
Brian Minter writes on gardening every Saturday in The Vancouver Sun. This article originally appeared in Brian's column on October 7, 2022 and has been reprinted with permission.